Your personal AI Sound producer.
CoreSound takes advantage of Apple's latest processors, neural network algorithms, and artificial intelligence to determine the quality of audio data.

CoreSound data is updated each month with thousands of tracks of Apple Music tops.
Create tracks with Apple apps.
Add Audio
CoreSound analyzes audio files lasting from 15 seconds to 10 minutes. The recommended audio bitrate starts with 128 kbps.
Evaluate your Audio
Compare your audio files with the Apple Music charts and find segments to improve.
Share results
Select the highest-rated scores and show how cool is your music.
Compare across genres and charts.
Apple Charts
CoreSound professionally analyzes music in comparison with the tracks at the top of the Apple Music charts. You receive a score that immediately lets you know how your track stands up to the actual audience perception.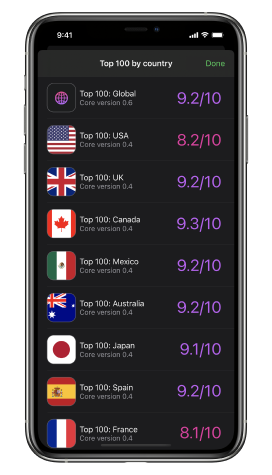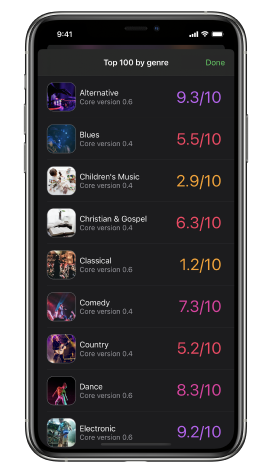 Privacy
We do not collect, use, accumulate or store any personal data about our users.
Start your journey with Pro.
No commitment. Cancel anytime.
Analyze even faster with "Analyze All" button and the ability to add analysis to the queue.
Analyze ad-free with no interruptions
Subscribe